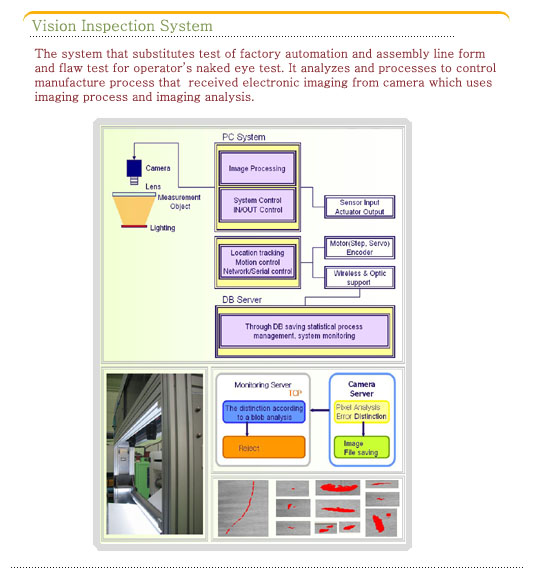 ¡ß Features


By using Vision, offer diverse and complicated test systems

Check the real time and application to the in-lines system
• A foreign substance, pattern existence and nonexistence, size test system
• Check exterior of Marketing or OCR, Print status
• Application to the non-woven fabric, paper and film production line
• Parking control system, a protection of invasion system

Diverse test systems, precision and low cost
¡ß Hardware Specification

Sensor : Line Scan Camera and Area Camera

Resolution(LS) : 1K, 2K, 4K, 8K, 12K

Resolution(AS) : 640x480 ~ 1600x1200 ~

Detection Range : 20 §­ ~100 §®

Max. Positioning Velocity : 100§®/sec
¡ß Software Specification

Ease to use by using GUI.

Offer factory stability through statistical process techniques.

Offer comparable with factory monitoring system.

Provide reliability through a close investigation.

Through Encoder chase or deletion a foreign substance.

Provide long time Data analysis through DB linkage.
¡ß Vision System Consitution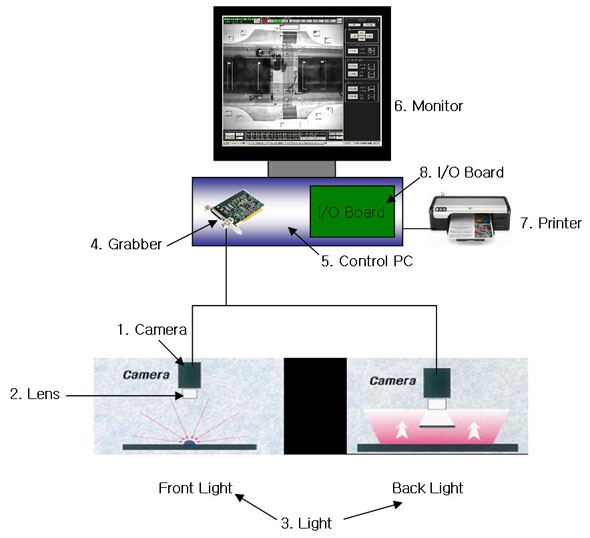 1. Carmera : As an input medium which is input a picture, it could classify into the normal Standard Camera and Nonstandard Camera. According to the type of CCD Sensor, It can organize and use system by using specific camera such as Area Scan, Line Scan and 3CCD.
2. Lens : As a part of Camera Sensor that assembles light, It is usually determined on the object size and distance. And according to the type of camera, it uses F-Mount and C-Mount.
3. Lighting : As an important variableness to get clear image, It has to make lighting condition to verity test part precisely. It includes a fluorescent lamp light, halogen light, LED light. According to the penetration location, there are front light, back light, coaxial light.
4. Grabber : The equipment converts received signal from camera into computer signal. According to the type of camera and Spec, model selections are different. There are also embedded DSP Chip of high function and speed model.
5. Control PC : VBeing essential part of Vision Base, it comprehensively controls S/W process, I/O Board control and an overall System. According to the working condition and motion terms, it is able to use for normal PC or industrial PC. Sometimes it affects speed in according to System performance.
6. Monitor : It displays environment setting and measurement situations.
7. Printer :Being output functions of test result, it displays Spec, flaw of products on weekly and monthly. (It can not only use as Data Base but also keep inside PC)
8. I/O Board : The Board which connects with outside input/output of Control PC. It serves as an interface of corresponding period signal, mechanical part control signal, light brightness control, trigger light signal, classification of products, control signal of inferiority.
¡Ø Image Click -> Big Size Image
¡ß Delivery of Goods : POSCO Bending Measurement System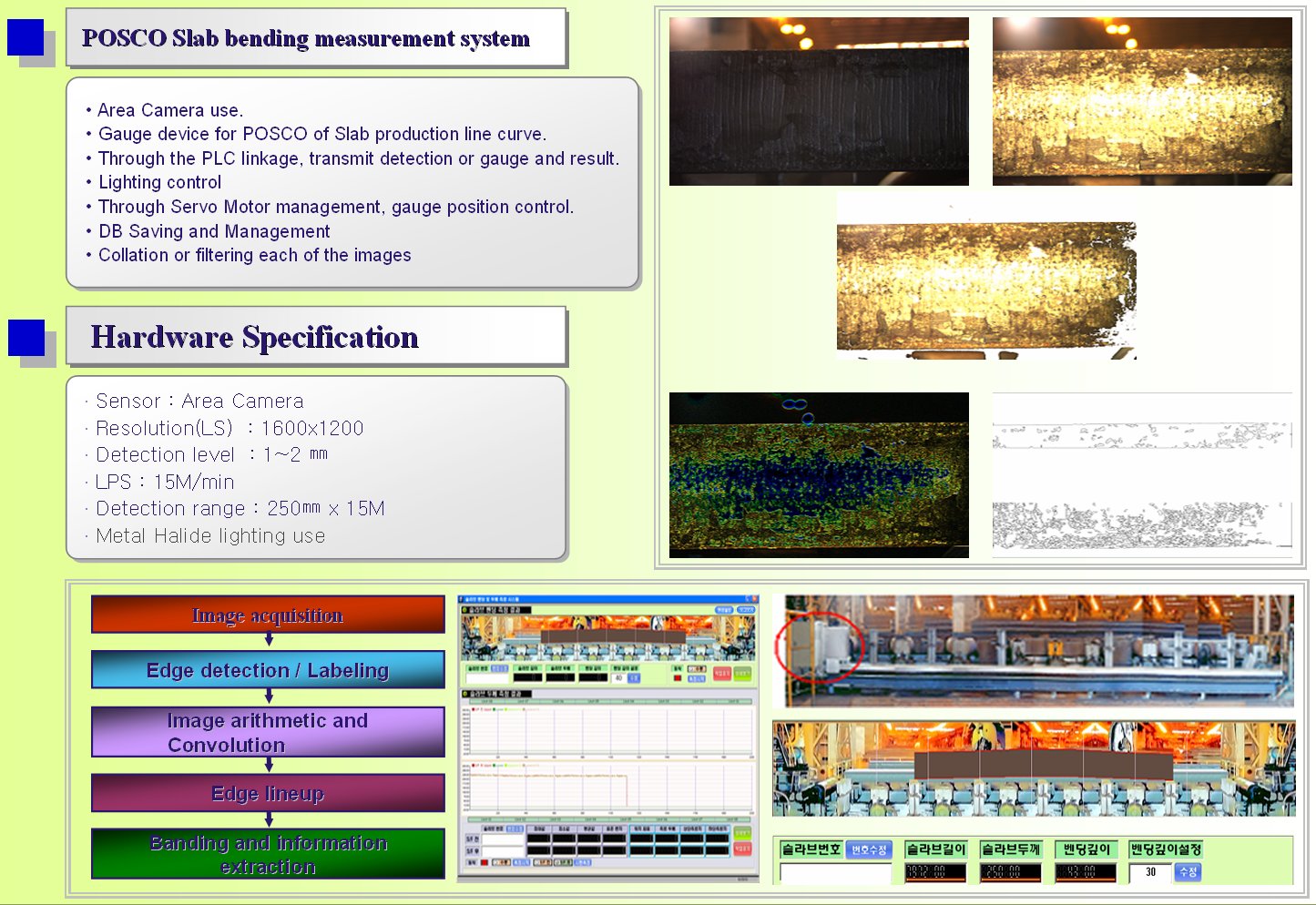 ¡ß Delivery of Goods : Diaper foreign material/Pattern Inspection System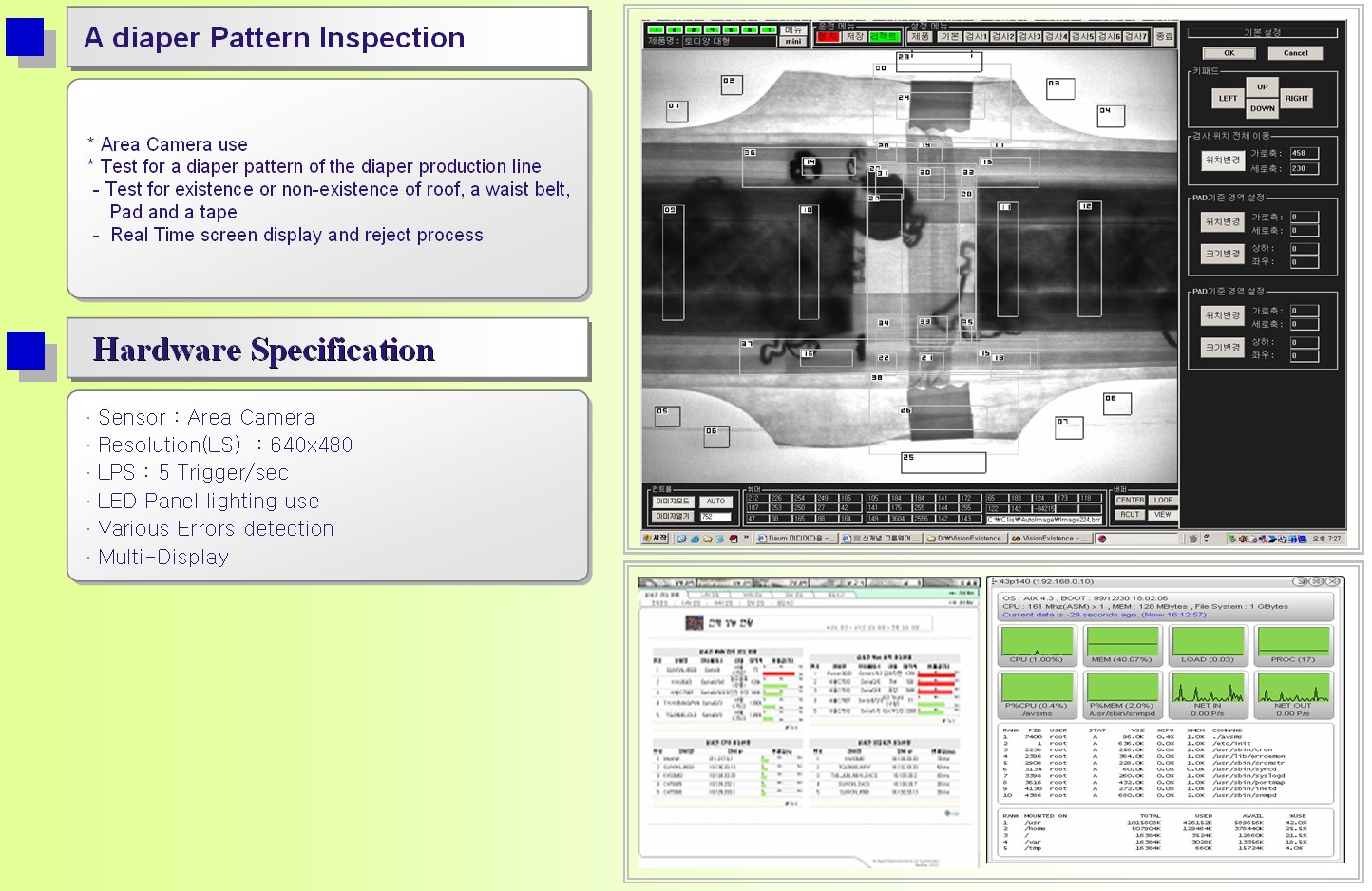 ¡ß Delivery of Goods : Plastic foreign material Inspection System
¡Ø Please call or e-mail on quotation and technical inquires or Consultation.